No explosion - no fire - no burning How to choose the capacitor you want?
what is a capacitor
If you rub the plastic plate, you can pick up the hair. This is because the friction produces positive and negative charges, and they attract each other. This is the basic principle of the capacitor. However, the capacitor composed of electronic components does not rely on friction, but on Applying a voltage makes it electrified (charged).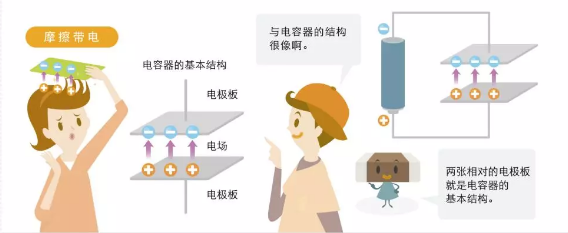 The capacitor market is diverse, and safety performance is particularly important
At present, the market is full of capacitors with various and uneven quality, no matter the appearance of cube, cylinder, cuboid, cylinder, etc., and there are even capacitors called smart. However, compared to the appearance and function of capacitors, their electrical safety is more important. If the capacitor itself does not have a protective function, when an electrical accident occurs to the capacitor, it will not only directly cause the failure of the capacitor, but even lead to an open fire accident in severe cases. Therefore, in addition to reliable and stable quality, power capacitors should also have basic protection functions.
One layer of protection - safety design
01 Overcurrent Protection
When the internal components of the capacitor are abnormal, the capacitor will withstand a large "fault current". If the faulty component cannot be isolated immediately, it will cause rapid deterioration of the internal insulation, and then an internal arc flashover will occur
02 Overpressure protection
The arc flashover of the capacitor component will cause the internal components to expand and accumulate pressure. If the mechanical stress that the device can withstand is exceeded, a burst accident will occur. At this time, even the short circuit accident of the power system is caused by the failure of the capacitor component.
03 Over temperature protection
The capacitor component is made of extremely thin PP-film, and its ability to withstand temperature is very limited. Therefore, when the internal components of the capacitor experience "overtemperature", it will cause qualitative changes in the PP-film, and even cause melting loss, affecting Capacitor service life.
04 Padding protection
Use natural ore (vermiculite) that can isolate the heat source, which has the functions of anti-flammability and explosion-proof. When it encounters high temperature, it will automatically dissolve to isolate the source of fire and air, so that the faulty device will not continue to spread. Dramatically improve the electrical safety of capacitors,Use natural ore (vermiculite) that can isolate the heat source, which has the functions of anti-flammability and explosion-proof. When it encounters high temperature, it will automatically dissolve to isolate the source of fire and air, so that the faulty device will not continue to spread. Dramatically improve the electrical safety of capacitors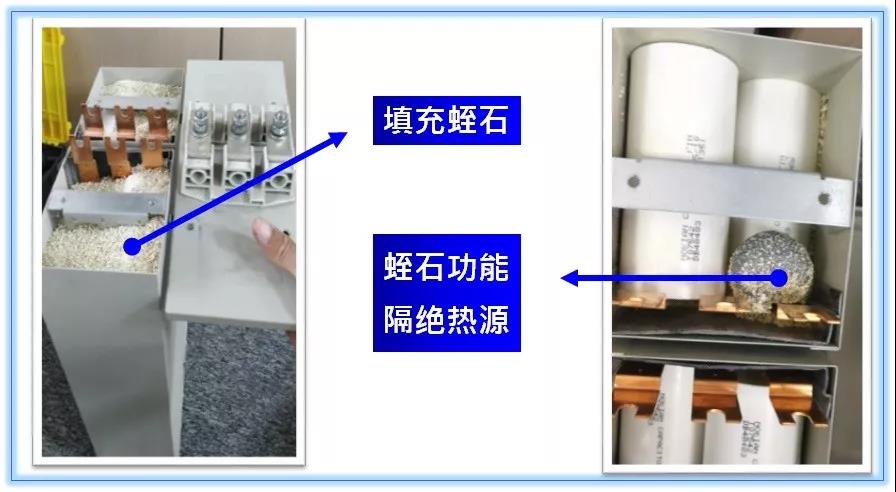 05 Shell protection
Compared with capacitors with plastic and aluminum shells, steel shells can withstand greater mechanical stress, and can more effectively isolate internal abnormalities of the capacitor, avoid spreading outward, and affect other electrical equipment
Double protection - security inspection
The National Capacitor Manufacturing Standard "GB/T12747.2" and the International Electrotechnical Standard "IEC60831.2" also have clear regulations on the destruction test of capacitors. After the capacitor has passed the internal short circuit test, it must meet: